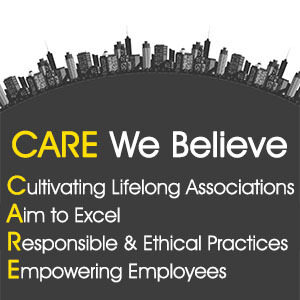 In CARE We Believe.
Cultivating Lifelong Associations
A project is not a time-bound transaction for us, but a lifelong association. We cultivate meaningful, enduring partnerships and alliances with our clients, employees and stakeholders by adding value and establishing trust.
Aim to Excel
We aim to excel in whatever we do and are committed to the satisfaction of our internal and external stakeholders. Product innovation, technological excellence and an optimum techno-commercial solution with least maintenance are the core elements in the design and execution of our projects.
Responsible & Ethical Practices
We are conscientious in our practices be it concerning the clients or towards the environment. We take it as our moral obligation to act in a responsible and ethical manner that positively influences our ecosystem.
Empowering Employees
Employees are the voice, heart and soul of our organization. We believe in empowering them by providing the autonomy and the authority they need to make decisions and excel. Once the employees excel, the organization flourishes organically.