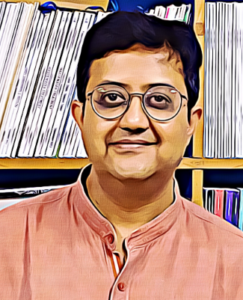 Maulik Jhaveri is the Project-In-Charge and Partner at Jhaveri Associates. He joined our sister concern; The Gujarat Electric Co. Pvt Ltd. in 1998 as a Junior Engineer, and our proprietary firm M/s Harshad Jhaveri in late 1998 as a Design Engineer. Owing to his dedication and competence, he quickly grew up in ranks and was promoted as a Project Manager. He joined Jhaveri Associates since it started in 2004 as a Partner.
A qualified Electrical Engineer and adept in management practices, Maulik is the Project-In-Charge at Jhaveri Associates. He is responsible for electrical designing, co-ordination of various projects and overseeing management related aspects. He has significant prestigious projects to his credit, which he has handled from scratch to finish.

Maulik, a dynamic entrepreneur and a go-getter has a knack of converting obstacles into opportunities. He is our Mr. Perfectionist who would go to any length to get things right. A firm believer of teamwork and collective growth, he aspires big things in life for himself and for his team.
Maulik loves to travel and read. He is a technology enthusiast and believes in its ability to change the world. His better-half is an academician and his daughter is in primary years of her education.
With his confidence and enthusiasm, Maulik along with his partners and colleagues is all set to take Jhaveri Associates to its new heights.