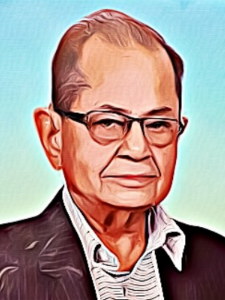 "A sign of a good leader is not how many followers you have, but how many leaders you create."
– Mahatma Gandhi
A building is as strong as its foundation. Jhaveri Associates owes its existence, strength and resilience to its founder and chief mentor, the Late Shri Harshad Jhaveri.
An electrical engineer by education, Harshad Bhai did his Master's from Michigan University in 1958 and worked with Crompton and Phillips in the Netherlands for a couple of years. After he returned to India, he joined his family run organisation, The Gujarat Electric Company Pvt. Ltd., which is the leading Electrical Contracting firm of Gujarat.
Harshad Bhai was a visionary, an avid risk-taker and believed in creating new opportunities. He realized that there was a huge untapped market in Electrical Consultancy in India. Determined to take advantage of this opportunity, and carve a niche, he established the firm M/s Harshad B. Jhaveri in 1985 and started as an Electrical Consultant. As sheer hard work, persistence and team effort would have it, the firm catapulted as being the leading Electrical Design Service Consultants in Gujarat.
Starting 2004, he expanded into MEP consultancy and started Jhaveri Associates. He joined as a Partner alongside other family members; his brother Shri Manmath Jhaveri, his nephews Premal Jhaveri, Maulik Jhaveri and another veteran from the company Bhavin Shah.

During his illustrious career, he took up numerous consultancy projects. His ability to elucidate even the most technical concepts in layman terms was commendable. This helped him to enjoy a great rapport with his designers and clients. While all projects were challenging and rewarding in their unique ways, electrical work for The Gujarat High Court was the closest to his heart.
For his remarkable work, he won several awards and accolades both nationally and internationally. A few notable among them include the UNESCO Award towards services for Nagour Fort, Rajasthan and RR Kabel Power Honor Awards.
He believed in imparting and sharing the profound knowledge he had in his field, which he did by serving as a visiting faculty with CEPT (Centre for Environment Planning & Technology) for many years.
Harshad Bhai not only had exceptional business acumen, but he also had several inspirational qualities. He considered time to be the most valuable asset and was never late in his appointments. He was an early riser and an eminent Yoga practitioner. He was a proficient swimmer and come rain or cold, he would seldom miss his 5 am swimming sessions. He was a distinguished man, who was looked up to by his family and acquaintances alike.
Harshad Bhai continued to lead, inspire and serve till he breathed his last. He is to date considered the pioneer in Electrical consultancy in Gujarat. Today, he is physically no more with us, but his vision and values continue to guide us in our endeavor to emerge as the leading MEP Consultants globally.